County of San Diego
Gun Violence Reduction Community Needs Assessment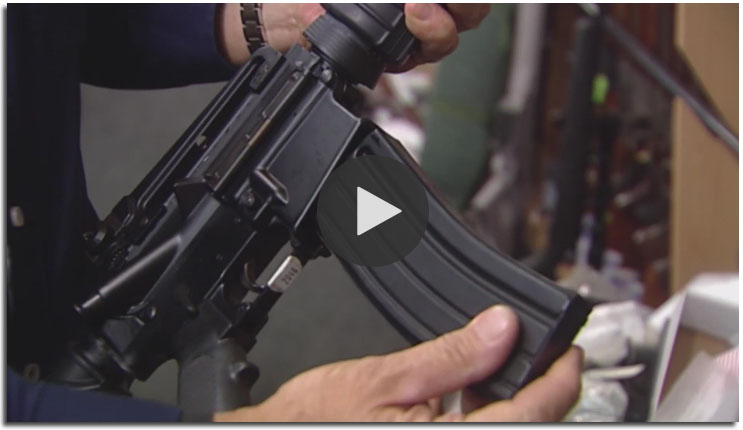 Click on the image above to view CBS News Channel 8 special on San Diego County gun violence reduction survey.
The County of San Diego has contracted with HARC to conduct a countywide community needs assessment on gun violence reduction. This needs assessment will identify localities of greatest need, gaps in services, and best practices for gun violence reduction.
For information, or to receive updates from the County of San Diego about gun violence reduction, click here: County Gun Violence Reduction Project
The needs assessment will include a community survey and professional survey, both of which will explore the impacts of gun violence in the County of San Diego and identify what services and resources are needed most.
Community Forums
Join us at one of the Community Forums, where you can learn about the project's preliminary results and ask questions. Everyone is welcome.
March 9, 2023: Virtual Community Forum
Zoom link: Zoom link: https://tinyurl.com/GVRforum
Time: 6:00pm – 7:00pm
March 11, 2023: In-Person Community Forum
Location:
Jackie Robinson Family YMCA (Community Room)
151 YMCA Way, San Diego, CA 92102
Time: 2:00pm – 3:30pm
March 14, 2023: In-Person Community Forum
Location:
Escondido City Hall (Mitchell Room)
201 N. Broadway Escondido, CA 92025
Time: 6:00pm – 7:30pm
If you have any questions or need language translation and interpretation services (including sign language) at one of these events, please contact HARC at dpolk@HARCdata.org. Please submit language requests at least 72 hours prior to the forum.
For the Community Forum flyer, click here.
Advisory Group Members
This needs assessment is guided by a Gun Violence Reduction Advisory Group which is composed of members of the public and county-level government staff. The Advisory Group is dedicated to representing the County's diversity of viewpoints and ensuring the project is grounded in the needs and interests of the community.
Community Representatives
Amanda Brown began as a businesswoman, avid volunteer, and community advocate and chose to go back to school and completed her Master's Degree in Peace & Justice from the University of San Diego's Joan B. Kroc School of Peace Studies. Bringing her unique background in community engagement, leading and developing individuals, strategic planning and policies, and public relations, she has a commitment to utilize all her skills for making a difference for humanity, specifically in community non-violence, gang prevention/intervention, and anti-human trafficking. Her grassroots/nonprofit and political experience makes her a diverse consultant for organizations and communities as she has a holistic and widespread view of how to approach projects.
---
Dr. Brown earned a Doctorate in Leadership Studies and a Masters in Cross-Cultural counseling. His numerous leadership experiences, and professions includes Vice President (CHRO)-human resources; CRO-Chief Risk Office, extensive mediation and arbitration; Equity-Diversity & Inclusion; Financial Services in Insurance; Director of Program Management; Senior Project Management; Law Enforcement Oversight- Collaboration-Wellness; Auditing, Governmental Reporting and Compliance; University Research; Collective Bargaining; Contracts; Executive Coaching; Community Mental Health Engagement; and Cross-Cultural Workplace Energy Designs.
In addition, he has served on numerous industry and civic boards: McGill School of Success, California State University (CSU)-Risk Management Authority (CSURMA), CSU-Auxiliary Organizations joint powers authority, Urban League of San Diego County, San Diego NAACP, and San Diego ASPCA-Humane Society. Dr. Brown designed Workers' Compensation-Captive insurance and Cyber Liability financing programs that save California State Universities and other entities hundreds of millions of dollars annually. Dr. Brown is also the longest serving President of the University of Southern California's Trojan Football Alumni.
---
Sergio Gonzalez is the Program Supervisor of UPAC's Community Violence Response Team (CVRT). CVTR provides needed support and services to victims of, and witnesses to, community violence to mitigate the negative effects of violence in a manner that is culturally appropriate. Sergio leads the mobile response team of diverse community advocates to assist families, support youth, and empower communities. Sergio is a certified Grief Support Specialist providing grief counseling, supportive after-care case management, and proactive response to community trauma. Sergio was previously employed by Jacobs Center for Neighborhood Innovation, specializing in youth workforce development, prevention, and early intervention. The main workforce training program was his co-founded Writerz Blok, a Multi-Media Printing Social Enterprise. As Program Manager of Writerz Blok, Sergio was responsible for the overall administration of the at-risk youth diversion program serving over 2,500 youth and families.
---
I am the founder of the PHATCAMP Organization "Pushing Hard Advocate Team" Women and Girls physical and mental sports program established back in 2007. For over a decade, I have developed an interest in being a community activist and life coach. I manage to continue and support comprehensive activities and strategies in communities working to address challenges such as crime, violence, and gangs. As the founder of this organization, I reached a goal to connect with other organizations as well as people in the community to set up effective programs that included hands-on street outreach and intervention, mental health services, out-of-school programs, community building, and interracial interaction, bringing many resources and solutions to underserved San Diego communities. I am a proud American and daughter of two refugee parents. My contribution is to provide current knowledge of the inner communities, and to do so it takes someone who can relate and have that knowledge to detect and execute a mission that could help prevent the increase of gun violence. This includes critical thinking and analyzing an issue before it gets out of control as well as helping increase confidence with decision making for programs much needed such as those for mental health and trauma.
---
Annie has been working in the field of violence prevention for over 20 years. She earned a BA in Social Policy from Northwestern University and an MSW from the University of Washington with a concentration in social justice models in multi-ethnic practice. Annie has worked in national-level consulting for federal agencies, private foundations, and local municipalities seeking to prevent violence in the lives of adolescents and families. Her work includes violence reduction strategies for the US' largest cities through the Centers for Disease Control and Prevention. Locally, she has served as a Youth Program Specialist for the County of San Diego's Health and Human Services Department and as a social worker at Clark Middle School in City Heights. Currently, she is an executive director at a local, youth-serving non-profit.
---
I'm proud patriotic conservative American, a Republican County central committee member and the 2nd elected GOP transgender candidate for public office in the entire country. My pathway has taken a much different path than most women. As a child I struggled everyday with who I was, how I fit into the world, how I felt about myself. I was the big, thick glasses, geeky smart kid that was always the last kid picked in PE class. I hated organized traditional sports in school because I was uncomfortable and awkward in that environment. I was mercilessly bullied for being fat and gender non-conforming. Then an incredible thing happened. I discovered and I was able to participate in the Rifle teams at my high school. That non-traditional shoot provided me a direction for finding my self-worth and allowed me to develop a skill and passion I carry on to this very day. I had a gift, I found my niche, and it gave me a way to compete and be successful somewhere other than the science and math classes I loved so much. I have competed in various shooting sports for 50+ years, competing at the national and international level. I carried on my love of shooting and firearms safety to my family and especially my children. We used competitions as family bonding, I've never been a hunter, and so for us it was the shared love of shooting for competition. This provided a vehicle to teach my kids to be responsible and safe gun owners. When I transitioned from Male to Female after many years of fighting it, I found an incredible and receptive group among the gun community that for the most part accepted me as myself.
One big issue remains: the pathway to self-realization for other kids that don't conform to the traditional sports model is not available to younger generations. School competitive shooting programs and gun safety classes are a thing of the past. Instead, children grow up exposed to video games that glorify not the competitive initiative but the act of murder or slaughter. They are desensitized to the value of human life, and they become inert to the dangers of firearms. We teach kids about bicycle safety, swimming safety, and about being safe around strangers, but we completely ignore gun safety. We have stigmatized guns to such a degree that we don't even allow the conversation to occur about teaching kids the safest and most effective methods of avoiding injury and the negligent use of firearms. I have started an initiative to incorporate non-partisan, non-political gun safety (which does not involve shooting or gun handling) into the education of our kids. We have found an independent gun safety program produced by a young man whose organization is built around the slogan "ZERO firearms accidents is the only acceptable goal."TM We are failing our kids. We are allowing them to grow up without the basic tools to protect themselves from the inadvertent discovery of a gun that may lead to an accident with dreadful consequences. It is my passion to get this knowledge into the minds and hearts of our children to reduce the incidence of injury. I have found my place and my cause in the gun world.
---
Carie Rodgers, Ph.D., ABPP, currently serves as Chief Program Officer at PsychArmor Institute and is a Clinical Professor of Psychiatry at the UCSD School of Medicine. Prior to joining the team, she was the Associate Director of the Education & Dissemination Unit at the VA Center of Excellence for Stress and Mental Health in San Diego, California. She has served as a National Trainer for the VA's Cognitive Processing Therapy initiative and as a consultant for the National Center for PTSD. She has provided training and consultation to hundreds of mental health providers in the VA and the Department of Defense, as well as in the broader community. Dr. Rodgers was also a Consultant for the VA's national roll-out of Prolonged Exposure Therapy and was the Director of the VA San Diego Military Sexual Trauma Program. She received her Ph.D. in Clinical Psychology in 2000 from the University of Oregon, and completed her internship and postdoctoral training at UCSD and the San Diego VA. A licensed Clinical Psychologist in the state of California, Dr. Rodgers is also Board Certified in Clinical Psychology by the American Board of Professional Psychology.
---
Jesus Sandoval is a former gang member who became a pastor in City Heights in 2003. He is now a pastor at Remnant Church San Diego and founder of the Community Wraparound Initiative. The initiative works with gang members and their families to help them leave gangs behind. The centerpiece of the approach is pairing individuals who want to leave gangs with former gang members from the same gang, drawing on their lived experience to help those who want to change. In 2019, he was appointed to lead the City of San Diego's Commission on Gang Prevention and Intervention.
---
Ira Sharp has been a resident of Del Mar for 10 years. Ira is cofounder of NeverAgainCA which initiated and conducted the successful legislative campaign to ban the sale of firearms and ammunition from all state-owned facilities. He created the website SafeStorageCA.org which facilitated the adoption of safe storage resolutions by school districts throughout the state. Ira has led efforts at the local, county and state levels to enact laws that ban the manufacture and possession of ghost guns and increase responsibility and liability for gun dealers and manufacturers. In 2021 he was elected to serve on the national board of the Brady Campaign. He is a graduate of Washington University and Columbia University School of Law.
---
Pualani Vazquez is the trauma injury prevention and community outreach coordinator for Scripps Mercy Hospital, an adult level 1 trauma center. As part of the trauma response team, she works in collaboration with community-based organizations to develop and implement a wide range of evidence-based programs through public health outreach to reduce the frequency, severity, and fatality of unintentional injuries in San Diego. She actively contributes to several city-wide task forces and centers her work in promoting trauma-informed care through authentic community engagement and collaboration to build healthier and more equitable communities. Originally from Hawai'i, she has spent nearly a decade in Oceanside where she is happiest with her family enjoying the natural beauty of the place, we call home.
---
County Representatives
Melissa Bartolome, Office of Equity and Racial Justice

---
Chesley (Ches) Blevins is a Health Planning and Program Specialist with the County of San Diego, Public Health Services, where he serves as Program Director for the Office of Violence Prevention and the Chronic Disease and Health Equity unit. Ches has more than 20 years' experience in population-based approaches to improving community health through program planning, implementation, and evaluation with a focus on violence and injury prevention, chronic disease prevention, and community mobilization and engagement. His most rewarding and important job, however, is being a father to two amazing young men.
---
Jennifer Bransford-Koons is the Director for the Office of Equitable Communities in the newly formed Department of Homeless Solutions and Equitable Communities. Ms. Bransford-Koons has been with the County of San Diego for over 30 years working in various programs for the Health and Human Services Agency (HHSA) including serving as the Director for Regional Operations for the East and North Central regions of the County. Throughout her career, she has worked with diverse populations and has championed protective and safety net services for vulnerable older adults, children, and families. She recently dedicated herself to overseeing the County's robust COVID-19 testing and vaccine operations to prevent the spread of infection and expedite access to vaccines to all San Diegans with a focus on areas with the highest rates of infection, including rural, tribal, farmworkers, youth, and school personnel particularly in the lowest 4th Quartile zip codes. In her current role, she oversees community engagement programs and outreach efforts in partnership with the community to ensure resources are available and accessible to all and in ways that are culturally sensitive, trauma informed, and welcoming. These include innovative upstream prevention and intervention practices such as hiring Regional Community Coordinators and Community Health Workers/Promotoras to build capacity for reaching the population where they live and bringing education and information to reduce poverty and promote economic inclusion.
---
Commander Rick Lopez, Sheriff's Department
---
Janie Regier, Office of Equity and Racial Justice
---
Joshua Smith is the Senior Epidemiologist for the County of San Diego, Emergency Medical Services, and has worked for the County of San Diego for more than a decade. He received his Master's in Public Health from San Diego State University and his PhD in Epidemiology from the University of California, San Diego. He lives in the South Bay with his wife of 16 years and two children, ages 14 and 11. He spends most of his free time coaching high school football or spending time with his friends and family.
---
Rachel Solov, District Attorney's Office

---
If you have any questions about this project, please contact dpolk@harcdata.org