December 1, 2017
World AIDS Day: Awareness, Statistics, and Local Resources.
(Español)
November 1, 2017
National Diabetes Month: A Coachella Valley Perspective.
October 12, 2017
National Breast Cancer Awareness Month: A Coachella Valley Perspective.
(Español)
September 11, 2017
National Suicide Prevention Week: A Coachella Valley Perspective.

August 21, 2017
HARC is conducting a survey in collaboration with the Southwest Riverside County Cancer Care Task Force, initiated by the City of Temecula.

August 16, 2017
National Immunization Awareness Month: How Does the Coachella Valley Stack Up?

August 4, 2017
HARC was awarded $25,000 as a recipient of the H.N. and Frances C. Berger Foundation, CBS Local 2 Coachella Valley Spotlight grant.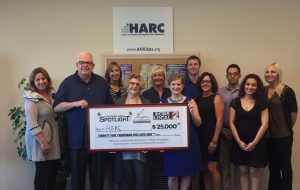 (Click here to watch the check presentation video)
June 26, 2017
Healthy Workplaces Receive Recognition in 2nd Annual Workplace Wellness Awards.
April 3, 2017
2nd Annual Coachella Valley Workplace Wellness Awards open for nominations — Awards recognize exemplary workplaces that value employees.
February 2, 2017
New Coachella Valley community health data provides a snapshot of health in our community.
December 22, 2016
New Coachella Valley Community Health Data to be Released on January 31, 2017
September 26, 2016
HARC Celebrates Ten Years of Providing Critical Data to Organizations That Enrich the Lives of the Local Community
June 30, 2016
Diabetes in the Coachella Valley: HARC Data Reveals Bittersweet Story
June 15, 2016
HARC Announces Winners of the Coachella Valley Workplace Wellness Awards
April 5, 2016
Uninsured Data Reveals Health Disparities In the Coachella Valley (Español)
February 23, 2016
HARC Announces Launch of Fourth Community Health Monitor
October 26, 2015
HARC Appoints New Board President
September 29, 2015
HARC Appoints New Research and Evaluation Associate (Español)
July 2, 2015
HARC Announces New Director of Research and Evaluation
May 28, 2015
HARC Releases a Special Report on the Health of Young Children
April 16, 2015
HARC Announces Rebranding
April 2, 2015
HARC Announces New CEO

March 5, 2015
HARC'S Founding CEO Eileen Packer to Retire
February 26, 2015
Veterans Health: HARC research shows there is still work to be done for this population
February 3, 2015
Show Your Heart Some Love: Fight Heart Disease Through Prevention
November 10, 2014
Senior Health Issues Still Need to be Addressed: HARC Research Shows Diabetes, High Blood Pressure, Arthritis and Depression Prevalent
October 9, 2014
HARC Research Shows Many Women Still Not Thinking "Pink" When it comes to Breast Cancer Screening and Testing
September 5, 2014
Childhood Obesity in Coachella Valley
August 14, 2014
HARC Honors National Breastfeeding Month By Bringing Topic to the Forefront in Coachella Valley
July 8, 2014
HARC Appoints New Research and Evaluation Associate to Dynamic Team
June 2, 2014
June is National Men's Health Month: HARC Provides a Look at Men's Health in the Coachella Valley
February 5, 2014
HARC Releases the Results of Third Triennial Community Health Assessment: February 13th Event Expected to Draw Community Leaders from Across Riverside County
December 12, 2012
HARC Retains Kent State University to Administer Comprehensive Health Assessment
August 6, 2012
HARC Appoints Director of Research and Evaluation
February 15, 2012
Heart Disease Risk in Valley Generally Lower Than Other Parts of County or State
January 31, 2012
Summary Tables of HARC Results 2007 and 2010
January 6, 2012
HARC Announces A Special Report On Children Ages 0-5 and 6-17
December 16, 2011
Coachella Valley Residents Less Healthy than California Peers
November 15, 2011
Diabetes Threat Looms Among Valley Seniors Acording to HARC Study
September 14, 2011
White Adults Here Drinking Alcohol Twice as Often as Hispanics
August 15, 2011
Vaccination Data on Common STD Shows Many Valley Women May be At Risk
July 8, 2011
HARC Announces 2011-2012 Board of Directors
June 14, 2011
Question Marks Surround Men's Health Here
May 9, 2011
Latest HARC Study Shows People Foregoing Food
April 6, 2011
HARC Sets Date for Presentation of Data on Region's Health
March 9, 2011
Good Nutrition in the Valley Remains Weighty Problem
November 7, 2010
Linkage Between Diabetes and Heart Disease Clear in HARC Research
October 19, 2010
HARC Research Shows Many Women Still Not Thinking "Pink" When it Comes to Breast Cancer Screening and Testing
September 14, 2010
HARC Honored with Top Innovation Award from the Nonprofit Resource Center
September 7, 2010
Region's Prostate Cancer Testing Numbers Show Many at Potential Risk HARC Data Also Reveals Large Gaps Between Whites, Latinos
August 20, 2010
HARC Data Spotlights Low Regional Immunization Rates
July 30, 2010
HARC Adds UC-Riverside Vice Chancellor, Dean of Medical School to Board
April 30, 2010
Arthritis Rate Here Tops National Average
April 1, 2010
Valleywide Diabetes Rate to be Addressed in HARC 2010 Health Study
January 6, 2010
HARC to Administer Comprehensive Assessment of Healthcare Needs in Eastern Riverside County
October 8, 2009
Numbers of Medically Uninsured in Region Exceeds 80,000
July 9, 2009
California Endowment Awards Major Grant to HARC
June 8, 2009
HARC Research Grant from The Community Foundation
June 3, 2009
HARC Received Research Grant from The Community Foundation to Help Underwrite 2010 Community Health Monitor
April 15, 2009
HARC Research Shows Number of Medically Uninsured Children in Region Outpace County and State Totals
February 12, 2009
Kaiser Foundation Hospital Awards Grant to HARC
September 29, 2008
HARC Finds High Cholesterol Problem Across Numerous Population Groups within the Region
June 17, 2008
HARC Research Shows Seniors Here Continue to Suffer From Falls

May 14, 2008
HARC Data Shows Regions Population Plagued by High Blood Pressure Readings
April 13, 2008
HARC Study Reveals Thousands Engage in Binge Drinking Across Eastern Riverside County
March 24, 2008
HARC Data Shows Over 80,000 Valley Adults 50+ Haven't Taken Basic Test for Colon Cancer More than a quarter of the Coachella Valley's population, ages 50 and older, have not undergone a basic test procedure to check for colon cancer.
February 13, 2008
HARC Study Shows Over Half of Eastern Riverside County Overweight or Obese Newly Released Community Health Monitor Also Includes Statistical Profiles on the Uninsured, Alcohol Abuse, Cancer Screening and More
July 16, 2007
HARC Completes Second Phase of Region-Wide Community Health Survey Eagerly Awaited Community Health Monitor to Help Shape Future of Care in Eastern Riverside County
April 24, 2007
Veteran Healthcare Professional Named Executive Director at HARC Eileen Packer to Manage Region-wide Healthcare Needs Assessment
January 2, 2007
HARC Names Board of Directors to Oversee Region-wide Healthcare Needs Assessment Community Leaders Pledge Support for Major Research Initiative
December 5, 2006
Blue-Ribbon Panel Formed to Launch First-Ever Comprehensive Assessment of Healthcare Needs in Eastern Riverside County HARC Set to Kick Off Sweeping Research Initiative in
January 2007